Varsity Invitational Schedule, Format, and Additional Info
JV Invitational Schedule, Format, and Additional Info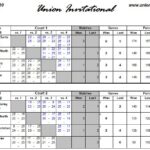 | Final Results | | | | | | |
| --- | --- | --- | --- | --- | --- | --- |
| 1st Place | Bishop Kelley White | 12-0 | | | | |
| 2nd Place | Edmond North | 8-4 | | | | |
| 3rd Place | Lincoln | 7-5 | | | | |
| 4th Place | Union | 5-7 | | | | |
| 5th Place | Santa Fe | 4-8 | | | | |
| 6th Place | Stillwater | 4-8 | | | | |
| 7th Place | Victory | 2-10 | | | | |
| | | | | | | |
| | Teams | Wins | Losses | OPD | | |
| | Lincoln | 7 | 5 | +39 | | |
| | Santa Fe | 4 | 8 | -38 | | |
| | Victory | 2 | 10 | -63 | | |
| | BK White | 12 | 0 | +86 | | |
| | Union | 5 | 7 | 3 | | |
| | Stillwater | 4 | 8 | -28 | | |
| | E. North | 8 | 4 | -2 | | |
| | | | | | | |
| | | | | | | |
| COURT 3 | Teams | Winner | PD | Loser | PD | Scores |
| Round 1 | North v Victory | North | +7 | Victory | -7 | 25-22, 25-21 |
| Round 2 | BK v North | BK | +20 | North | -20 | 25-21, 25-9 |
| Round 3 | BK v Union | BK | +7 | Union | -7 | 25-21, 25-22 |
| Round 4 | Stillwater v North | Split | +2 | Split | -2 | 25-18, 20-25 |
| Round 5 | Santa Fe v BK | BK | +14 | Santa Fe | -14 | 25-13, 29-27 |
| Round 6 | Victory v Stillwater | Split | +1 | Split | -1 | 17-25, 25-16 |
| Round 7 | Stillwater v Santa Fe | Santa Fe | +9 | Stillwater | -9 | 25-18, 25-23 |
| Round 8 | North v Santa Fe | North | +8 | Santa Fe | -8 | 25-22, 25-20 |
| Round 9 | North v Lincoln | North | +5 | Lincoln | -5 | 26-24, 25-22 |
| Round 10 | Victory v BK | BK | +17 | Victory | -17 | 25-17, 25-16 |
| Round 11 | Lincoln v Santa Fe | Lincoln | +25 | Santa Fe | -25 | 25-14, 25-11 |
| | | | | | | |
| COURT 4 | Teams | Winner | PD | Loser | PD | Scores |
| Round 1 | Santa Fe v Union | Union | +15 | Santa Fe | -15 | 25-12, 26-24 |
| Round 2 | Stillwater v Lincoln | Split | -4 | Split | +4 | 19-25, 26-24 |
| Round 3 | Santa Fe v Victory | Santa Fe | +15 | Victory | -15 | 25-19, 25-16 |
| Round 4 | Lincoln v Victory | Lincoln | +19 | Victory | -19 | 25-17, 25-14 |
| Round 5 | Union v Lincoln | Lincoln | +12 | Union | -12 | 25-19, 25-19 |
| Round 6 | Union v North | Split | -3 | Split | +3 | 20-25, 25-23 |
| Round 7 | Lincoln v BK | BK | +16 | Lincoln Christian | -16 | 25-19, 25-15 |
| Round 8 | Victory v Union | Split | -6 | Split | +6 | 13-25, 25-19 |
| Round 9 | BK v Stillwater | BK | +12 | Stillwater | -12 | 25-21, 25-17 |
| Round 10 | Union v Stillwater | Split | +4 | Split | -4 | 22-25, 25-18 |
JV – August 22, 2020
Varsity August 21-22, 2020
Click for Schedule and Scores
Protocols – Covid Response
Teams will not switch sides. Winner of the coin flip will select: serve, receive, or side.
Officiating Team – sanitize warm-up volleyballs and score table before departing for next match.
New pens will be provided for each match.
Match paperwork will be picked up at the tournament desk by the R1 before each match.
Player chairs will be wiped down between matches and should remain in two rows spaced out.
Players set up camp in an area outside of the arena floor and away from other teams.

Team tables must contain only pre-packaged food.

Players wear a mask anytime not in the game, not actively playing in a match, or eating and drinking.
Players sanitize hands before each warm up and wash hands after each match.  Sanitizer provided.